When one thinks of a multinational, worldwide corporations that own or control production of goods and services in more than one country might come to mind — maybe Royal Dutch Shell and Barrick Gold.
But there's also a term — a micro-multinational — that denotes small- and medium-sized enterprises that export using technology platforms such as eBay and that have sales of $10,000 or more in a year.
"The vast majority of sales for our micro-multinationals come from outside of Canada," said Camille Kowalewski, eBay Canada's head of communications. "And the average number of countries to which an eBay micro-multinational sells is 18, in comparison to about 2.5 for traditional exporters."
The top markets to which eBay's micro-multinationals export are the United States, the United Kingdom, Australia, China, and Germany.
In a survey, eBay found that sellers who export have nearly 60 per cent more in sales than those who don't, and they are also more likely than non-exporters to believe there are new market opportunities for them (70 per cent versus 36 per cent).
This series highlights some of Canada's top micro-multinationals, such as Wooki.
Christine Deslauriers always had business in her blood, but her own now-thriving business basically fell into her lap while she was taking some time off from a mining sales job to stay home with her children.
She was living in the tiny Northern Ontario neighbourhood of Porcupine where shopping opportunities were slim. Being at home allowed her to explore eBay and she thought it was an excellent way to do business. She knew some day she'd ignite her entrepreneurial spirit and start selling something online. But what?
That answer came when her children started figure skating. She was looking for well-priced skating costumes and found there was a lack of supply — even online. But she knew where to look. Her father had run a sporting goods shop in her native Montreal and her grandfather had for 30 years run Mondor, a manufacturing plant that produced sports clothing.
"I bought some overstock from Mondor and a lightbulb went off," she said. "I thought 'I should try to sell this on eBay.' That's what got me started. Eventually I opened a commercial account with suppliers and that's when the business got started."
She started selling small amounts on eBay in 2006 and officially launched her business — Boutique Step Up — in 2007. Two years later, on the strength of those sales, she opened a bricks and mortar store in Porcupine, later moving it to Sudbury where her husband got a new job. Since 2007, the businesses have together grown by 700 per cent. In 2015, eBay named her its Entrepreneur of the Year.
"These days, I get stock from all over," she said, and added that she sells skates, blades, skating clothing, including dresses, and skate bags. "I search all over the internet to see what's new. And when I buy, I buy a lot."
Running the eBay and the bricks and mortar store is quite manageable, she said. She works full time at the shop and runs the eBay portion from there. Five part-time employees relieve her on weekends and evenings.
EDC resources to help you export
When it comes to exporting, the micro-multinational has sold to 42 different countries in her 10 years. A total of 34 per cent of her export sales go to the U.S. After that, it's the U.K., and then Sweden and Finland. But there are orders from as far away as Russia and recently, when she added competitive swimsuits to her product line, she started hearing from customers in South America.
"Business is always changing," she said, "but it's always improving."
Staying competitive has meant keeping up with the latest trends in sporting apparel and finding the best possible prices from wholesalers.
"If there's a supplier that has a sale, I'll buy whatever they have and I'll try to negotiate great rates," she said. "They give me good prices because I buy in bulk."
She also delivers impeccable service, even online and about 30 per cent of her customers come back.
"When people email with questions, I answer right away," she said. "I'm good at remembering people and tell them it's nice to see them back. When they receive a skating dress in the mail at a discount price, they're very happy and they come back."
The biggest drawback of exporting is the shipping costs. She works mainly with Canada Post and wishes they would offer better rates and service. The other drawback is having to pay duty on a returned item that's coming back across the border.
"Not many do come back," she said. "I'd say it's about one a month, but it's a pain to have to pay $80 in duty, for example, for a product that's being returned to you."
When it comes to best practices for marketing, Deslauriers says eBay really looks after her marketing.
"When you put something up for sale on eBay you immediately get buyers. It's not a lot of work and it gets viewed by people all over the world. I don't understand why more people don't do it. It's an amazing platform for selling."
Get more export insights from Boutique Step Up's Christine Deslauriers here.
http://www.huffingtonpost.ca/andrea-stairs/online-business-success_b_11612424.html
5 Traits Of Successful Online Entrepreneurs
Natalie Young via Getty Images
According to Alberta's Centre for Innovation Studies, Canada has the second-highest level of entrepreneurial activity in the world. Having been with eBay Canada for more than a decade, and having spoken to eBay sellers across the country, I have firsthand proof that the entrepreneurial spirit is incredibly strong in Canada.
eBay Canada's Entrepreneur of the Year awards -- now in their 12th year -- provide a great vehicle to recognize and celebrate successful online entrepreneurs. I'm always so impressed with the entrepreneurial journeys sellers describe in their award submissions. While there is no manual outlining how to be successful, there are certainly commonalities shared by Entrepreneur of the Year award winners. Here are five traits shared by most successful online entrepreneurs:
They are strategic; they map out their growth
A recent BDC survey of Canadian entrepreneurs found that successful businesses are much more likely (71 per cent) to have a strategic plan than less successful companies (46 per cent). Christine Deslauriers of Blezard Valley, Ontario, is an example of this. Using her knowledge of Canadian specialized sportswear, she built a business plan on the premise that she could purchase overstock figure skating inventory directly from Canadian manufacturers. In addition to her physical store, part of her strategy was to open an online store on eBay so she could increase her inventory depth, which helped her purchasing power and margins. Building on her sales success, she quickly expanded her product offerings both online and offline to include gymnastics, dance and sports swimwear.
They think globally from the outset
Kimberley Wotherspoon runs the online operations for a hardware and building supply store in Dartmouth, Nova Scotia. When she was first hired, she was tasked with improving the store's website traffic and making the online ordering process easier for Canadian contractors and retail customers. However, being an "intrepreneur" (an entrepreneur within a company), she didn't stop there; she wanted to find a way to reach a larger audience and generate incremental sales. Selling through a global online marketplace was her solution. Today, more than 60 per cent of her business's online orders are exported to countries such as Australia, United Kingdom, Norway, Italy and the United States.
They focus on niches to differentiate themselves from the competition
Finding a niche was the way Jean-Francois Lapointe of Gatineau, Quebec, successfully created an online business for his bicycle shop. Knowing his online competition were big retail chains who had greater buying power, he recognized that in order to compete, he would have to specialize: He started by focusing on selling high-end bike suspensions to bike enthusiasts all over the world, and today he is the largest online bike parts and accessories reseller in Canada.
They are passionate and resourceful
Farishta Zarify discovered her passion for fashion could be turned into a successful online business after she sold her own high-end designer gown on eBay and noted the number of interested buyers. Taking advantage of the marketplace's low selling cost, and using her own personal dress collection as her start-up inventory, she launched her business. Within the first six months she was able to quite her other job and focus on her online business full-time, sourcing and selling through this single ecommerce channel. Today, has repeat customers across the globe and her business continues to grow.
They are resilient; they learn from failure and pivot in the face of obstacles
Shortly after opening his first bricks-and-mortar home improvement store, Michel Robidoux of Ste-Julie, Quebec was facing bankruptcy. Confident that going online was the solution, he created his own website, but quickly found he couldn't generate the traffic necessary to drive sales. Rather than give up, Michel doubled-down on ecommerce by listing his inventory on online marketplaces. That's when things 'clicked'; Michel found the success he needed to not only keep his business open, but to expand it. Thanks to his online sales, he's seen dramatic increases in all aspects of his business: revenue, retail square footage, inventory assortment, and employees.
These stories illustrate five traits that are core to online entrepreneurial success. It all boils down to focusing on an area of passion or expertise, being strategic and planful, thinking globally from the outset, and being prepared for failure while aggressively pushing for success.
What other traits do you think contribute to an online entrepreneurs' success?
http://www.huffingtonpost.ca/andrea-stairs/carving-their-own-paths-t_b_15142566.html
Carving Their Own Paths to Success: Female Online Entrepreneurs Share Their Career Stories
Being a female leader of one of Canada's top e-commerce players, one of the things that comes to mind on International Women's Day is the opportunities e-commerce creates for passionate female entrepreneurs. Recently, I connected with three exceptional female eBay sellers who've taken charge of their own paths to success by harnessing the power of the Internet.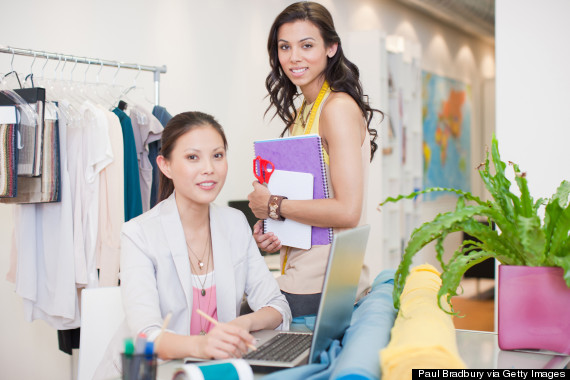 (Photo: Paul Bradbury via Getty Images)
Nadia Shuaib recently immigrated to Canada and, along with changing her citizenship, she changed her career path. Instead of relocating her legal practice, she started an online consumer electronics and accessories retail business. What started as a small, home-based venture quickly grew into a successful multi-channel operation with full-time staff as well as warehouse and retail space.
Christine Deslauriers was no stranger to male-centric industries, having had a successful career in arctic mining. She gave up that lucrative work to pursue her dream of being her own boss. Starting online, she established a micro-multinational business selling skating gear and athletic apparel to customers around the globe. Building on her online momentum, she opened a thriving physical store in her small hometown.
Finally, Kimberley Wotherspoon, an online sales manager for a hardware and building supply business, is an intrapreneur: someone who demonstrates entrepreneurial behaviour within a larger company. Hired to increase the business' online presence, she identified untapped markets, increased sales and, as a result, created a niche role for herself by leveraging her e-commerce knowledge.
 

 

Women have come a long way in the last hundred years; it's great to celebrate that progress.

 

 
These women have inspiring stories, and I wanted to hear more. The following is a condensed version of our conversations.
AS: How do you define success for your business or your career? Has that changed over the years?
NS: Early on, success meant merely surviving. But now I see success as being able to provide jobs, support my local community, and adding value however small it may be.
CD: Success is enjoying your job, and I do. The day it stops being enjoyable, I'll have one big sale and move on to the next thing!
KW: I fell into e-commerce as a way to work from home in a rural area. When I moved back to the city, I applied these skills to build my career. For me, being successful means having career options, staying competitive and enjoying what you do.
AS: I'm sure there are many, but what is one of the successes in your career that stands out for you?
NS: Meeting and being congratulated by Justin Trudeau for winning an eBay Entrepreneur of the Year award was an amazing moment. Everyone on my team is fairly new to Canada, so having our Prime Minister hear about our business was an especially proud moment for all of us.
CD: I've had many big moments in my career, like being the first woman to compete on a winning mine rescue team, or my first solo helicopter flight. However, for me, I value daily small successes, like when log into my eBay account and see the sales that came in from around the world while I was sleeping.
AS: I agree, successes come in every size and they're all worth celebrating. But success doesn't always come easily. What are some of the challenges you're currently facing?
KW: My biggest challenge is staying competitive in an ever-changing online world. It takes a lot of time and energy to not only keep up, but stay ahead.
NS: Everyone has the same amount of time each day to get things done. The challenge is to pick the right things to work on, so I need to make sure I pick wisely.
AS: At some point in your career, you've likely been told "no" or hit a barrier. How do you deal with adversity?
KW: Determination, a strong will and perseverance are some of my qualities that have come in handy. Knowing what you want to accomplish and having good reasoning behind it also helps.
NS: Leaving a career in law to sell stuff on eBay was risky, but it worked out really well. I find that hard work always trumps inexperience. Work hard, take risks and keep experimenting until things fall into place.
CD: I've learned that sometimes a "no" or a barrier is actually helpful. It forces you to look at different options and really focus on what you want to accomplish, which can be incredibly constructive.
AS: Have you ever felt that your gender was a factor in your career path or success?
KW: I've never felt that my gender has been a disadvantage in my current career field. From my experience, if you're knowledgeable and passionate about your job, you'll find success.
CD: Yes, I've experienced times when I felt I was not getting my fair chance because I was a female, but it only propelled me to speak up and ensure I was getting the chance I deserved.
AS: I believe it! But at some point, you've all worked in male-dominated industries. Is it challenging, personally or professionally, to be a woman in a male-centric profession?
NS: My business operates in a heavily male-dominated industry, but I don't find that fact to be a challenge. E-commerce is a great leveler as no one can discriminate based on race, beliefs, or gender.
CD: In the '80s and '90s it was fairly new for women to work in the mining industry, but I was young and didn't know any different. In any environment, you succeed by learning and adapting again and again -- it's an iterative process Working in a male-dominated industry was my confidence-builder.
AS: OK, I wanted to wrap things up on a timely note. We're celebrating International Women's Day this month: What does this day mean to you?
KW: Being able to celebrate you, and who you are!
CD: Women have come a long way in the last hundred years; it's great to celebrate that progress. I see my daughters and know that anything is possible for them, and that makes me feel good!
NS: It's empowering to hear women globally standing up for their rights. There is still a long road ahead, but good things are happening. As Sheryl Sandberg wrote, "In the future, there will be no female leaders. There will just be leaders."
http://www.profitguide.com/manage-grow/strategy-operations/how-canadas-low-de-minimis-threshold-duty-free-limit-hurts-small-businesses-105128
The High Cost of Canada's Low Duty-Free Limit
The threshold for importing goods into Canada duty-free is the lowest by far in the industrialized world—a burden that disproportionately hurts small businesses.
C
hristine Deslauriers unpacks a box of skates in her shop,
Boutique Step Up
, near Sudbury, Ont. Another return shipped backed from the United States, another $80 fee she has to cover on a sale she didn't make. "That's my profit," she says. "Straight out of my pocket. I can't make that back."
Deslauriers, whose business specializes in skating, dance, and gymnastics apparel, is among the thousands of small and medium-sized business owners whose margins are made even skinnier because of the of taxes and dutiesthey're forced to pay at the border.
In Canada, the duty-free limit, also known as the de minimis threshold (DMT), is lower than any other country in the industrialized world—by far. Anything coming into Canada worth more than $20 (U.S.$15) is subject to federal and provincial sales taxes and duty fees. That's half as much as Chile's DMT, the next lowest, and 40 times lower than the limit in the U.S., which rose this year from U.S.$200 to U.S.$800.
Canadian businesses, as well as those in the U.S. looking to ship across the border, have been pressuring the government to raise the DMT—something that hasn't happened since 1985. In February, U.S. Senator Jeanne Shaheen lobbied the Liberal administration to increase the threshold in the 2016 budget, but as of now there are no concrete plans to increase the limit.
The rationale for keeping the duty-free limit low is so the government can collect more taxes. But according to research published by the C.D. Howe Institute, revenues generated by the DMT are negligible. Researchers Christine McDaniel, Simon Schropp, and Olim Latipov calculated what would happen if the threshold increased to $80, $100, or $200. Boosting it from $20 to $80, the government would lose out on $39 million, but save $166 million in resources expended to collect taxes and duties—an overall savings of $127 million. At $100, the government could save $138 million, and raising the DMT to $200 could generate $161 million in savings.
For other stakeholders—namely consumers and small and medium-sized businesses—the benefits are much greater "because the cost savings for smaller entities is disproportionately large," the report states.
Darrell Renaud, owner of outdoor apparel and equipment shop ScoutTech, says the low threshold makes it hard to offer the level of service he'd like to. "When customers want to do special orders, if we're out of their size for footwear, for example, we're not able to order it in for them," he says. "When you factor in shipping, and taxes and tariffs, most of the time it becomes out of reach for the customer, and those costs are too expensive for us to cover." Like Deslauriers, Renaud must carefully place a few large orders each year, and hope that he doesn't run out of certain items before it's time for the next shipment. "If a popular item starts to sell out, we can't just reorder more on a smaller scale because of the way the low threshold affects us," he says. "Often to justify all of the expenses, we have to order $800 worth or more."
The long holdups at the border add another barrier for Canadian businesses and consumers. "There are some U.S. companies that won't even sell to Canada because it's such a pain to deal with customs," says McDaniel, one of the authors of the C.D. Howe report. While any package under U.S.$800 coming into the States sails through customs unchecked, in Canada, virtually anything is fair game for an inspection, potentially creating huge delays.
"I'm limited by what I can offer," says Deslauriers. "The fact that we're not very competitive with our dollar versus the U.S., plus these extra fees at the border—we're getting priced way, way out."